For centuries, value addition has been the core of innovation. Take Thomas Edison's invention of the light bulb for example.
All he wanted to do was produce a high-quality, consistent, and longer-lasting light as opposed to oil or gas light, and bingo! The light bulb was invented.
Now hold on. We're not trying to narrate the story behind the light bulb invention, nor are we saying that we're aiming for such levels of innovation.
However, it is the 'value-addition approach' that has driven our spirits at OnMobile, so much so that we decided to nurture it by launching Gamize.
Yes, Gamize is OnMobile's SaaS gamification platform, and we are going to tell you all about it, including the fun facts.
But before we tell you all about why and how we built Gamize, let us tell you why we emphasized so much value.
"Gamize began as our exploration into harnessing our gamification expertise. Our initial success in boosting engagement through gamification for OnMobile's internal products, which operate on a revenue-sharing model, inspired us.

Recognizing the widespread challenges of low customer acquisition, engagement, and retention in the industry, we saw an opportunity to address these issues through gamification.

We questioned why we should confine this valuable approach solely to OnMobile products when we could adapt it for universal application.

As a result, we established Gamize as a distinct entity, developing it into a versatile SaaS gamification platform to serve a broad spectrum of industries and companies."  ~ Sukruth. S,  AVP Product
After learning the core purpose of Gamize from our AVP Product, we headed to learn how it came into existence and for that, we spoke to our Product Manager, Megha Saraswat.
Hereon, you shall visualize her painting a picture of Gamize on a blank canvas, as our product team's effort of picking from a rich mix of colors like
Our SaaS vision
Learnings from our thriving gaming products
Market research
Client feedback
Team experiments
You'd also learn how the product team literally sculpted Gamize into a handy and reusable platform by going above and beyond to refine it as per customers.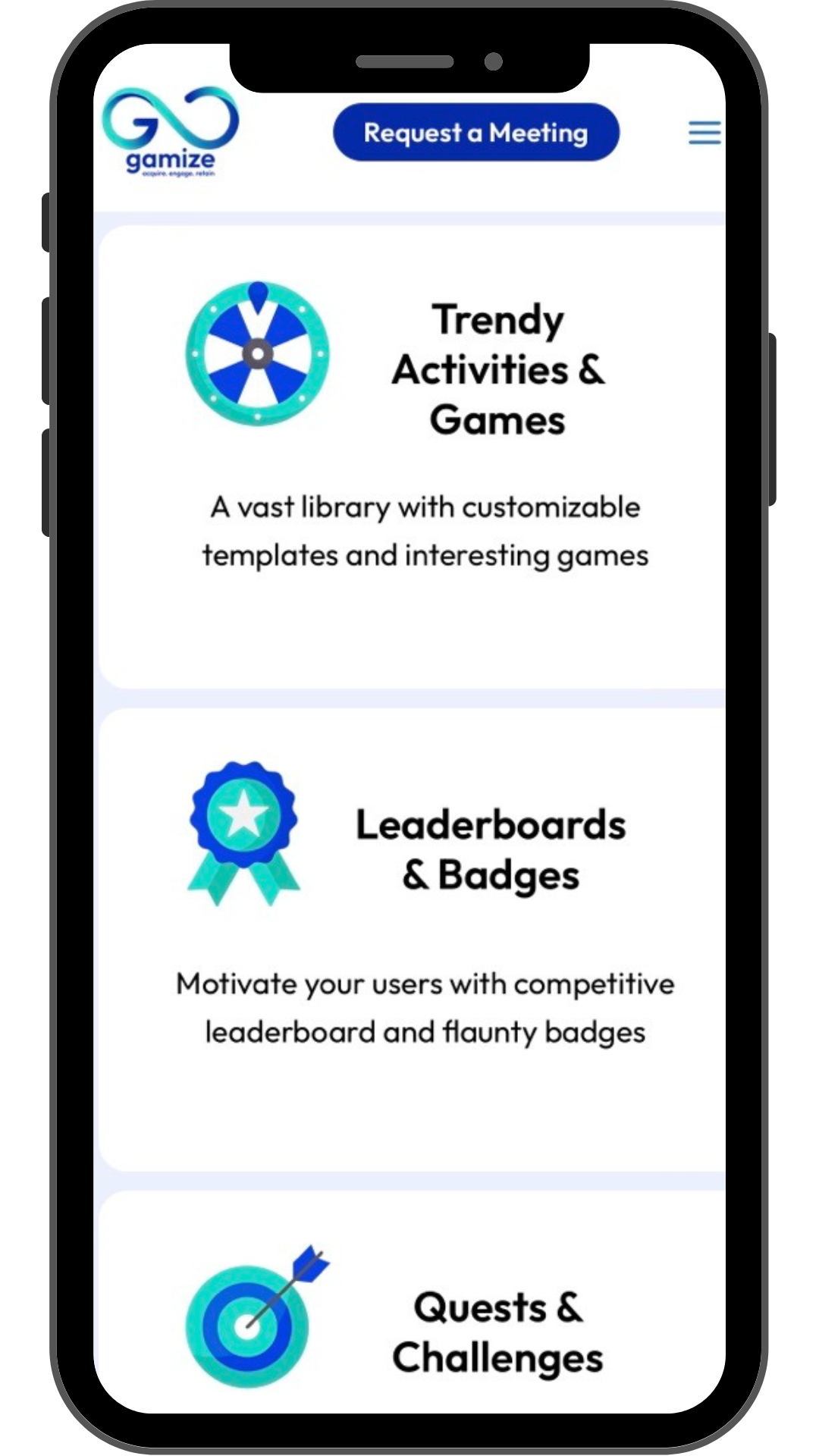 Then there's of course learning how our very own OnMobile marketing team was able to learn to use Gamize self-sufficiently.
Not to mention, we'll also unfold how Banglalink, the third-largest mobile network operator in Bangladesh joined hands with OnMobile to launch Gamize on their MyBL app.
So ready, as we leave for an unfiltered journey on everything about Gamize? Hop on!
Sowing the Seeds of Gamification
Innovation is taking two things that already exist and putting them together in a new way. We go back to this quote by Tom Freston, every time we think of how Gamize came to existence.
In our case, the two things that led to Gamize were our own gaming product, Challenges Arena, and a goal to utilize our 20+ years of experience with Telcos and enter different markets via SaaS.
Let us tell you how.
1. Why Gamification?
Truth be told, OnMobile was already gamifying user experience via its mobile casual gaming product called Challenges Arena. This was the foundation of Gamize's first component.
That's right, an immersive platform on which casual gamers can participate in various hypercasual games, theme-based challenges including quizzes, puzzles, and fantasy sports, check their status on the leaderboard, and win virtual coins or other prizes.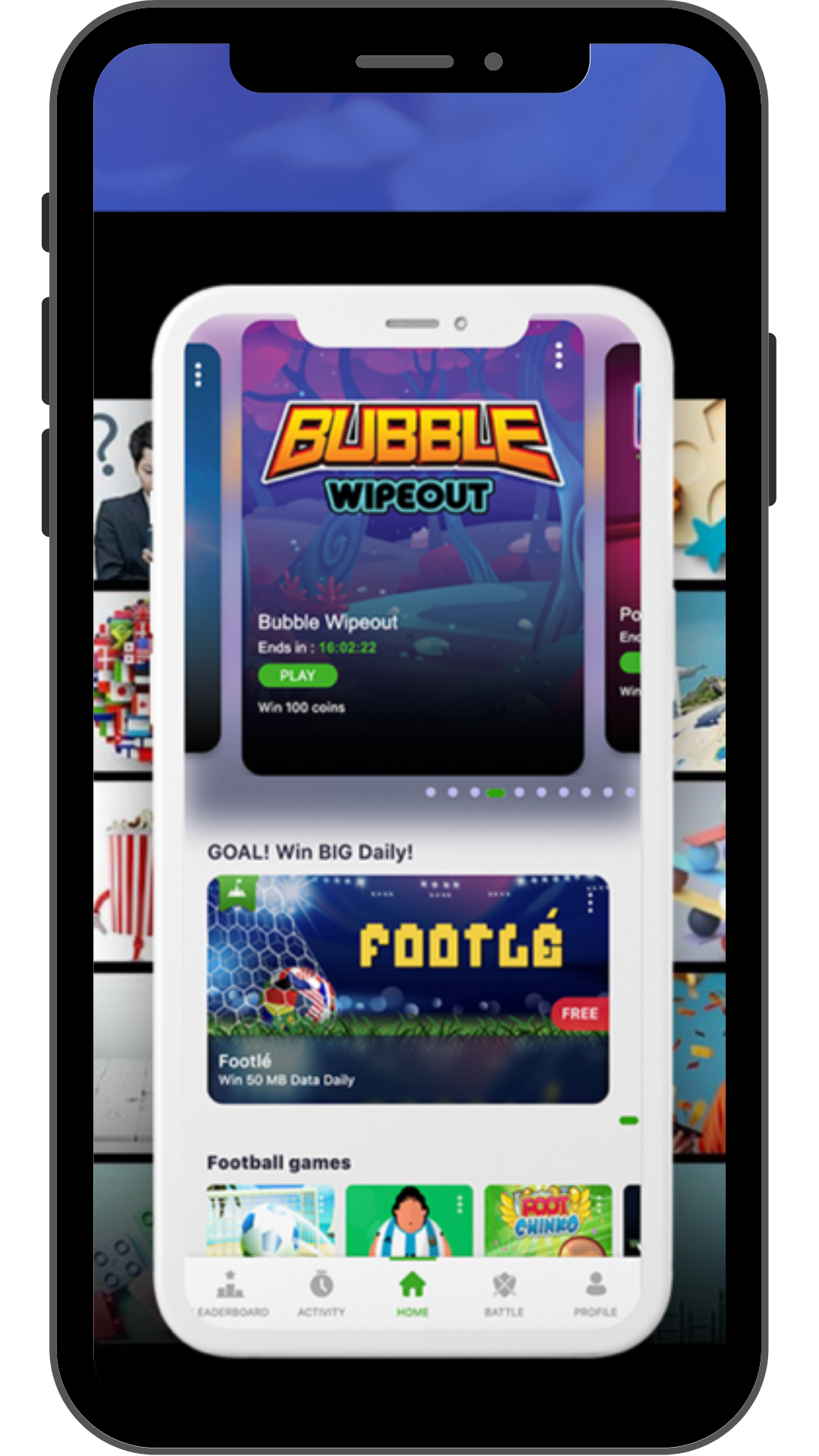 Now if you pay attention, you'll notice that Challenges Arena already consisted of gamification elements. However, it was a game but not entirely gamification in itself.
"Gamification is not just about games. It's a subset of games where gamification elements are used such as leaderboards or game mechanics like progress bars which can be used in non-gaming environments".
With her strong loyalty and gamification background, having come across popular gamification tactics like Spotify Wrapped or Zomato Badges success and OnMobile's gamification potential, the base was set for the PM.
All the PM and team had to do was build a gamification castle on top of it and package it in such a way that it could be leveraged by various sectors which is what OnMobile aspires to deliver by 2025.
This brings us to a point where I must tell you about Gamize's second component, SaaS.
2. Why SaaS?
Be it the Telecom industry or new-age businesses, both are driven by power. A power to be able to acquire and understand their users in innovative ways.
This kind of power requires control and that comes the best from certain tools which their teams can use for growth.
In order to achieve this, it was crucial that we let businesses get into the driver's seat and set their goals while we helped them achieve those goals via gamification and SaaS would enable this.
A SaaS gamification software would open gates for a standard product offering for all sectors.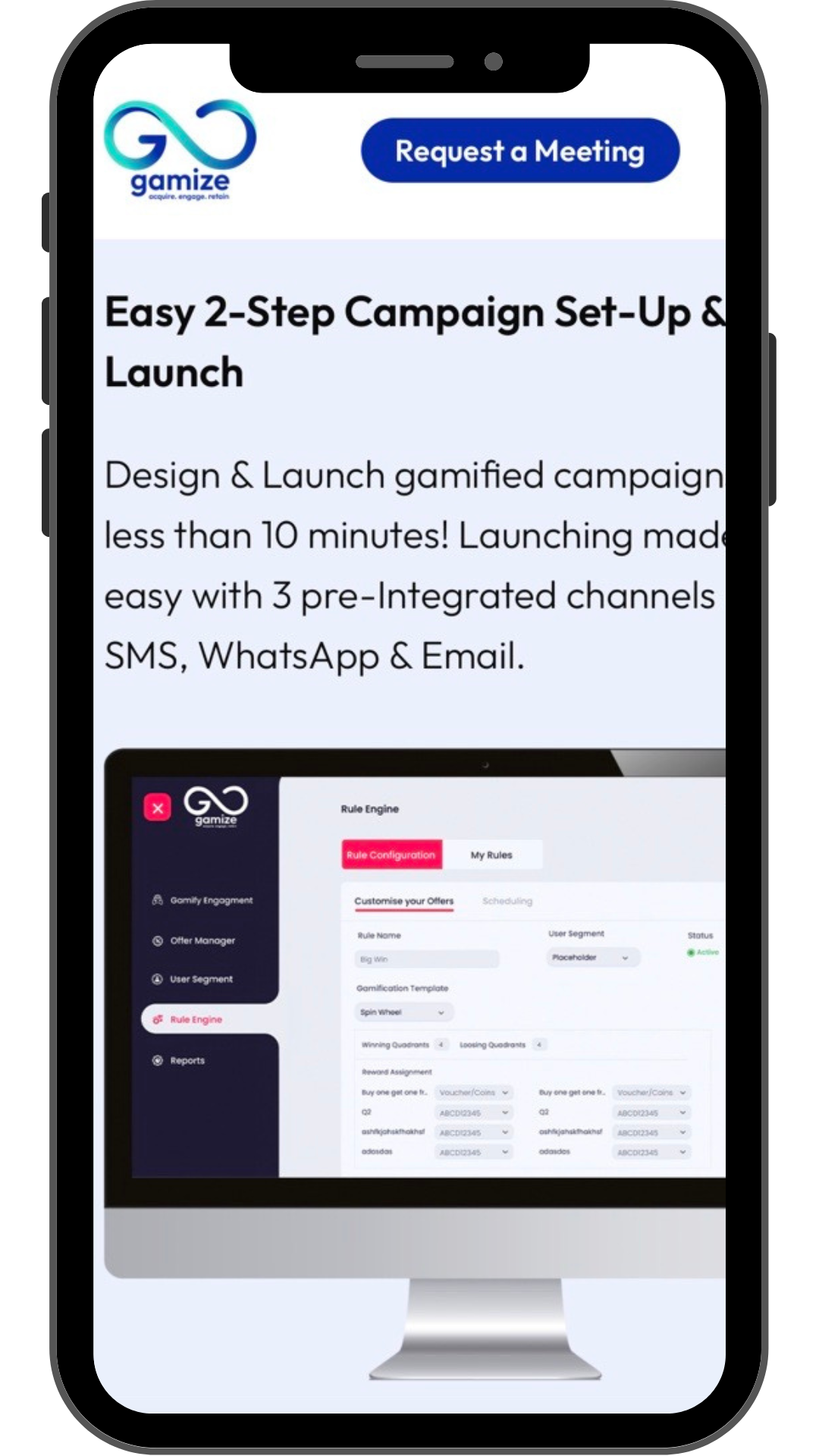 Moreover, since only a couple of Growth Managers from the Product and Marketing teams would drive this, it would save companies the infrastructure cost of maintaining users.
"Gamification is an engagement layer, not a core product. So companies shouldn't have to take the hassle of maintaining their users on their own. That's why we have Gamize for them".
As part of the next steps, the PM began the most critical part of making any product a success — research.
Learn, Build, Ask, Repeat: Gamize Journey Began
What are the specific problems that gamification can solve? Is there a market? Which geographies would benefit from it?
It's 2023 and gamification is a trending technology. However, just because OnMobile had everything it needed to dive into the gamification tech, it didn't mean that we were going to simply jump.
We rather wanted to first understand if there's even a problem to solve via gamification and with this, the PM, along with the product and engineering team, began her quest for answers.
Step 1: Identification
The Gamize product team spent a good 3 months just working on problem statements of different industries and geographies. They conducted primary research by reading papers, watching videos, and talking to existing players.
During their research, they also came across something that made them question if gamification is actually worth it and that was the fact that Microsoft deprecated the Dynamics 365 gamification plugin in April 2021.
"When we read it, we thought why?" wondered the PM team, and after due research came up with a hypothesis that Microsoft 365 being a marketplace already consisted of various gamification plugins from other players which came at a lower price.
So while Microsoft's discontinuing gamification raised some questions initially, it couldn't shake the team's determination to build a gamification tool because the industry was promising.
The global gamification market is projected to reach over $95k million by 2030 and after some more whitespace and competitor analysis, the team began working on OnMobile's SaaS gamification tool in February 2022.
Step 2: Building a Handy, Modular & Reusable Tool
By May 2022, Gamize PM with an outstanding team, built MVP 1.0 with a motto to make those using growth marketing tools find it easy to use Gamize too.
"We didn't know who was using our product. Maybe a 25-year-old wants to use it but what if a 35-year-old says no to it? So we kept the user experience similar to top-use marketing automation tools."
Acquiring, engaging, and retaining customers is a daily job and since our users were going to use our gamification tool every day, the PM had to make it easy to use.
In order to drive this, the Gamize team focussed on Modular Architecture and Reusability.
For instance, one can not only set a gamification campaign step by step moving from templates to rewards to user segments to campaigns but also reuse a spin wheel after creating it once, because Reusability = Scalability.
Step 3: Asking for Feedback
With product-led growth in mind, the product and engineering team wanted to make a product that's good and a good product requires easy adoption.
For this, they asked the OnMobile marketing team to create a gamification campaign using Gamize, looking to understand two aspects:
How easy Gamize tool was to understand
When do they reach a point where they have understood the flow
"We didn't tell them how to use it. With marketing automation tool experience, gamification was indeed a bit new to them but the rewards, segments, and rule engine made sense to them."
Our marketing team soon got accustomed to Gamize and this amplified PM's confidence to start speaking with customers, with a bank in Cambodia being the first one.
Use cases, questions, and ideas began to float around PM's client conversations and when one of the potential clients called Gamize promising, wanting to experiment with it, she knew the product was on the right track — let the business own and drive it.
"After every client interaction, I'd assess the product".
Banglalink: A Blessing in Disguise
Around this time, Banglalink, the third-largest mobile network operator in Bangladesh, came as the biggest support to the Gamize team while using our Challenges Arena product.
"In the middle of a discussion, they said they wanted to gamify their community engagement on their app, and to my surprise, the person who asked this was their digital gamification and engagement manager."
Abdullah Hill Nahian, as a hard-core gamer himself understood game mechanics and worked closely with the PM and team on new additions.
"Best products are made when you listen to your customers."
Here onwards, it was only a path forward for the Product Manager and team where they could see Banglalink achieve a 50% increase in engagement within 1 day and many more metrics via the Gamize gamification platform.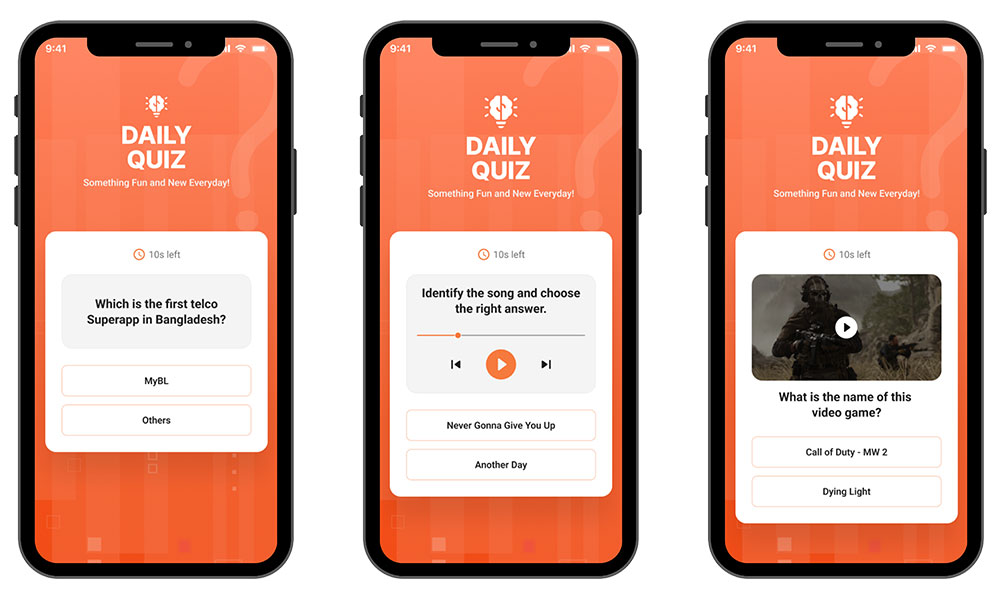 Revolutionize Your Business Growth with Gamize
From market research to building Gamize and talking to potential customers, the Gamize team continues to nurture our SaaS gamification platform in a way that provides a holistic gamification experience for all sectors.
So irrespective of which sector your business is from, if you're looking for a cost-effective and innovative way of acquiring, engaging, and retaining your customers in a way that they are motivated to come to you and stay, Gamize's new-age gamification is the answer.
PS – By now, you know how we built Gamize. How about you see it for yourself and try gamification for the best of your business? Click here to learn more.